The Greatest Baseball Story Ever
In 1937, Lou Gehrig, the outstanding first baseman of the New York Yankees, was asked to go to the Children's Hospital in Chicago, while there to play the White Sox, and visit a boy with polio. Tim, 10 years old, had refused to try therapy to get well. Lou was his hero, and Tim's parents hoped that Lou would visit Tim and urge him to try the therapy.
Tim was amazed to meet his hero. Lou told Tim, "I want you to get well. Go to therapy and learn to walk again."
Tim said, "Lou, if you will knock a home run for me today, I will learn to walk again." Lou promised.
All the way to the ballpark, Lou felt a deep sense of obligation and even apprehension that he would be able to deliver his promise that day. Lou didn't knock a home run that day. He had two.
Two years later, when Lou Gehrig was dying with the dreaded muscular disease that to this day bears his name, on July 4, 1939, they celebrated Lou Gehrig Day at Yankee Stadium.
Eighty thousand fans, the governor, the mayor, and many other celebrities paid their respects. Lou was one of America's great heroes.
Just before the mike was turned over to Lou to respond, Tim, by this time 12 years old, walked out of the dugout, dropped his crutches, and with leg braces walked to home plate to hug Lou around the waist.
That's what Lou Gehrig meant when he exclaimed those immortal words: "Today I consider myself the luckiest man on the face of the earth."
---
- Mack B. Douglas
Making a habit of Success
Galahad Books.
Source - Bits and Pieces, June 15, 2000 issue.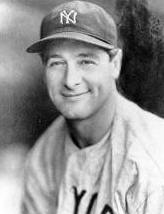 Lou Gehrig
He died in 1941, at age 37
---