Wilmette Young Tigers Class Information
General Info | Class Description & Schedule | Calendar | Instructors | Uniform and other Information | Map
Updated YoungTigers Taekwondo Class Schedule (as of March 3, 2021)
2021 Spring sessions will be in-person classes unless the COVID-19 situation changes. See you at the class.
Spring 2021 Session (April 6, 2021 - May 25, 2021)
- "New Students" (427036-05) - Fridays 5:20 PM - 6:05 PM (Apr 9, 2021 - May 28, 2021)
- "Continuing Beginner"(White and Yellow belts) (427036-01) - Fridays 6:15 PM - 7:00 PM (Apr 9, 2021 - May 28, 2021)
- "Intermediate and advanced" (Orange belts and up) (427036-02) - Friday 7:10 PM - 8:05 PM (Apr 9, 2021 - May 28, 2021)
- "Intermediate and advanced" (Orange belts and up) (427036-04) - Wednesday 6:15 PM - 7:05 PM (Apr 7, 2021 - May 26, 2021)
- "Continuing Beginner" - Friday 6:00 PM - 6:45 PM (Jan 22, 2021 - March 26, 2021)
- "Adult Class" (All belts) - Tuesdays 6:15 PM - 7:15 PM (Apr 6, 2021 - May 25, 2021)
Please wear a face mask during the class. Thank you.
New Students 6 - 12

Fridays 5:20 pm - 6:05 pm

(Class Description)

Class for new students. Will learn the basics of Taekwondo - breathing, blocking, punching, kicking, target drill and combination of techiniques. Class is taught in a relaxed and fun environment. Uniform is not required for this class. Wear comfortable loose clothes for the class.

Continuing Beinnnger White Belts and Yellow Belt ages 6 - 18

Fridays 6:15 pm - 7:00 pm

(Class Description)

Master instructor Ho Kim has been teaching Taekwondo over 40 years. Assistant instructors are black belt students who has been training in the YoungTigers classes for about 5 - 10 years. This program was developed by Oriental Martial Arts College and places emphasis on developing essential skills for good physical fitness through martial arts training. Basic techniques of Taekwondo, combined with deep breathing exercises, help children develop proper posture, concentration, and coordination. Practice of proper manner also helps to develop courtesy, self-esteem, and self-control. Students should wear martial arts uniform during class (white taekwondo uniform-dobock which can be ordered at the class through Master Kim.).

Intermediate and Advanced Students (Orange belt and up - including black belts) ages 7 - 18

Wednesdays 6:15 pm - 7:05 pm

Fridays 7:10 pm - 8:05 pm

Students may register either Wed classes or Fri classes. Students may also register both Wed and Fri classes.

(Class Description)

Intermediate/advanced students class follows traditional taekwondo class format. Meditation, warm up and breathing exercises, strong and accurate hand techniques (blocks and attacks), various kicking techniques, poomsae (forms), self defense techniques, target drill, free sparring and breaking technique development. Students wear hogoo (chest protector) during the free sparring practice. Strong emphasis on the mental training is given to develop a good character.

Read a young tiger's essay "My Life and Taekwondo" written for his black belt test - published in the Korean Quarterly 2010 winter issue.

Advanced Special Class (2nd Gup, 1st Gup and Black belts)
Wednesdays 7:15 pm - 8:05 pm (Cancelled)

(Class Description)

Instructor's permission is required to register this class.

This class is for those students who are committed
(1) to put extra efforts to learn and practice forms, self defense techniques, free sparring, breaking and mental training terminology that are required for the regular OMAC members and to strive to become good leaders and good human beings and
(2) already attained at least the level of dark blue belt (2nd Gup) and attending Intermediate classes (Friday and / or Wed classes).
(3) this class is mendatory for black belts students and those who are training to test for black belt.
Adults (all ranks) ages 18 and up
Tuesdays 5:15 pm - 6:00 pm

(Class Description)

This class is for adults who want to learn and practice traditional Taekwondo for self defense, health, physical fitness, and stress release. The main emphasis in this class will be practicing basic blocks, punch, kicks, stretch and deep breathing.

Instructor Grandmaster Kim has more than 50 years of martial arts training and has been teaching Young Tigers Taekwondo classes at the Wilmette Park District since 1998 with Dr. Lucy Park. Instructors are affiliated with the Songmookwan Moogongryu OMAC system (www.OMACWorld.com) . The class format follows a traditional Taekwondo classes with an added consideration to developing healthy breathing habits.

Taekwondo uniforms can be purchased in class. For more information email MasterHoKim@gmail.com with questions.
Location: (Map to the Wilmette Young Tigers Classes)
Instructors:
.
Assistant Instructors:


Pine Dhiantravan
(1st dan black belt)

Palm Dhiantravan
(1st dan black belt)

Assistants:






Moogong-ryu - OMAC - Moosong Dojang Black Belts Test (Wilmette Young Tigers)

.
Other Information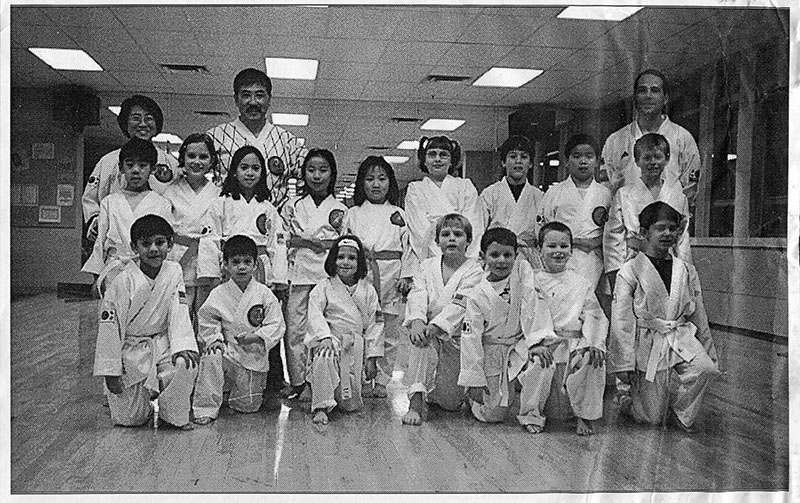 Young Tigers 1999
Questions? Send an e-mail to "M a s t e r H o K i m @ g m a i l . c o m ". Back to Home